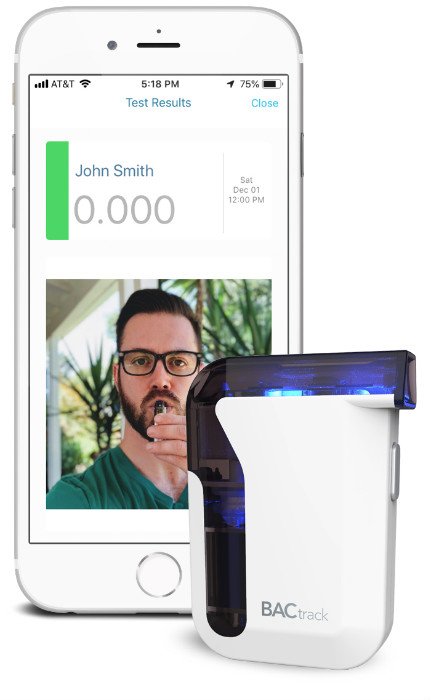 We are thrilled to announce the launch of our all-new remote alcohol monitoring platform, BACtrack View
BACtrack View allows a person to monitor someone's blood alcohol content (BAC) directly from a smartphone. Using the front-facing camera of an iPhone, a person can provide photo-verified BAC results by blowing into a BACtrack. BACtrack's smartphone-connected breathalyzers, including BACtrack Mobile, are small and discreet allowing for easy testing from anywhere.
BACtrack View was created in response to customer demand. We learned customers were using our smartphone-connected BACtracks and sharing app screenshots with others to advise they were sober. We knew we could improve upon the process and in doing so, create a remote alcohol monitoring system that was both accessible and easy to use.
Just as we've expanded the market for breathalyzers by making them accurate, low-cost, and widely available, we aim to do the same for alcohol monitoring with BACtrack View.
Read on to learn what makes BACtrack View such a game-changer
BACtrack View works with your smartphone
BACtrack View is discreet, easy to use, and consists of the all-new BACtrack View 2 app for iOS and a BACtrack Mobile, BACtrack C8 or BACtrack C6, all of which are small enough to fit in a pocket or purse.
Set-up, test scheduling, testing, and notifications are all handled via the BACtrack View app. You can even use the app to share a PDF report of a person's verified BAC results.
You can get started with BACtrack View immediately
While BACtrack View is compatible with BACtrack Mobile and the BACtrack C6, it's now also compatible with the new BACtrack C8, which is available at 7,000+ CVS Pharmacy stores nationwide. This is the first time ever a remote alcohol monitoring device is available nationwide for immediate purchase.
Go into a CVS store, purchase a BACtrack, and start using BACtrack View – it's that easy. BACtrack View prepaid subscriptions are also available via Amazon.com and monthly and prepaid subscriptions are available right here on BACtrack's site.
Alcohol Abuse is a staggering problem — and BACtrack View can help.
According to the NIAAA, alcohol is the third leading preventable cause of death in the U.S. and an estimated 88,000 die from alcohol-related causes annually. Additionally, approximately 17 million adults in the U.S. have a clinically-defined alcohol use disorder (AUD).
These and other stats related to alcohol use demonstrate the urgent need for tools like BACtrack View to help people manage their own or others' sobriety. We hear first-hand from customers that BACtrack View has helped families rebuild trust and accountability. Further, research related to recovery demonstrates the importance of ongoing support to decreases the risk of relapse, and sobriety monitoring is one such element. 
Remote Alcohol Monitoring is finally accessible and easy to use
BACtrack View's convenience is revolutionary compared to current methods of sobriety monitoring. Urine-based alcohol tests are still commonly required in alcohol recovery and occupational health testing. Other device-based tests are large, bulky, and expensive.
BACtrack View subscription plans range from $79 to $129 per month and include the use of a BACtrack; there are no contracts, initiation fees nor cancellation fees.
Learn more about BACtrack View and get started with a free 14-day trial today.