It can be a challenge to stay sober at this time while you're stuck inside and you cannot maintain your usual routine, but there are apps that can assist. Check out our picks for the 5 best apps for recovery to keep you safe and accountable now.
There's likely never been a greater demand for smartphone apps for recovery than there is right now. Even if you aren't in an area where it's recommended you stay inside, many people have chosen to settle in for some time and perhaps the entire summer or beyond. This is an especially difficult time for people whose recovery relies upon connecting with other sober individuals.
If you have a smartphone there are dozens of ways to keep you on track and accountable for your recovery during these difficult times. Whether you're looking for meditations, inspirational daily readings, a sober support network, or a self-monitoring app to build trust with loved ones.
Nomo Sobriety Clocks
Nomo Sobriety Clocks is a sobriety counter created as a fun project by someone in recovery who wanted a way to track his sober time. The app for recovery allows you to create multiple counters at a time to track your clean time, sobriety, or time apart from other addictions.
Earn digital sobriety tokens to track your milestones as you collect days, weeks, months, and even years clean and sober. You can also share your sobriety clocks with family or friends that you select as accountability partners, or with people on your Facebook or Twitter feeds.
Although it might seem like a simple app on the surface, the more you explore Nomo Sobriety Clocks, the more features you find. For example, in addition to sharing your sobriety clocks with friends, friends can share their clocks with you as well. You can also post to or read through the wall of encouragement created by submissions from members of the community.
Nomo Sobriety Clocks is a free app in both the Google Play Store and the App Store. It's run by one person, Parker, as a passion project he wanted to share with others in recovery. He takes donations to keep the app running and offers support for various addictions through affiliate links on the Nomo Sobriety Clocks website.
Download Nomo Sobriety Clocks from the Google Play Store:
Free (4.6 stars)
Download Nomo Sobriety Clocks from the App Store:
Free (4.8 stars)
Sober Grid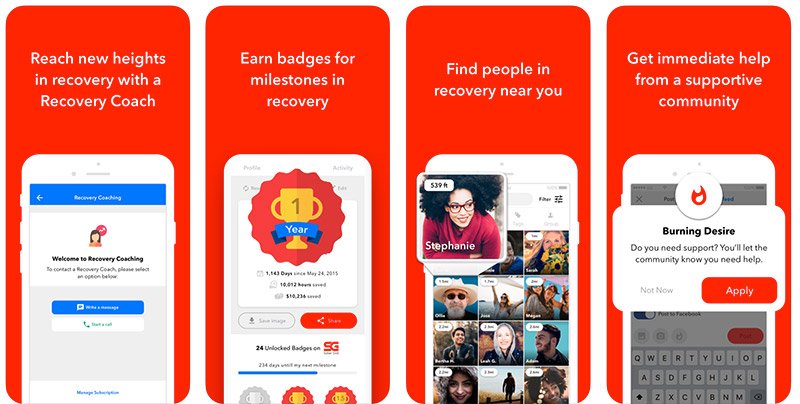 Sober Grid isn't just your average sobriety app. It's a social networking platform for people who are clean and sober. Think Facebook but for those in recovery. You can connect with other likeminded individuals both in your area and around the world. Share check-ins or pictures with friends and read through the Daily Inspiration.
The "Burning Desire" status is one of Sober Grid's greatest features. If you're feeling like using or drinking, mark the "Buring Desire" setting on your update for immediate support. Other sober members of the community can reach out and offer words of encouragement to get you through your cravings.
The app is easy to use, allowing you to either create a new account or connect the app with your Facebook to sign up. Set up your profile with your name, sobriety date, and a picture then you're ready to go. It encourages users to find the pathway to sobriety that works for them and requests that people respect one another's approaches.
Sober Grid is available for both iPhone and Android devices. It's free to use but offers an upgrade to one-on-one recovery coaching for a fee of $29.99 per month. You're assigned a personal recovery coach who is also clean and sober, who is available for both chat and voice calls 24 hours per day. Connect with your sober community today!
Download Sober Grid from the Google Play Store:
Free (4.2 stars)
Download Sober Grid from the App Store:
Free (4.9 stars)
BACtrack View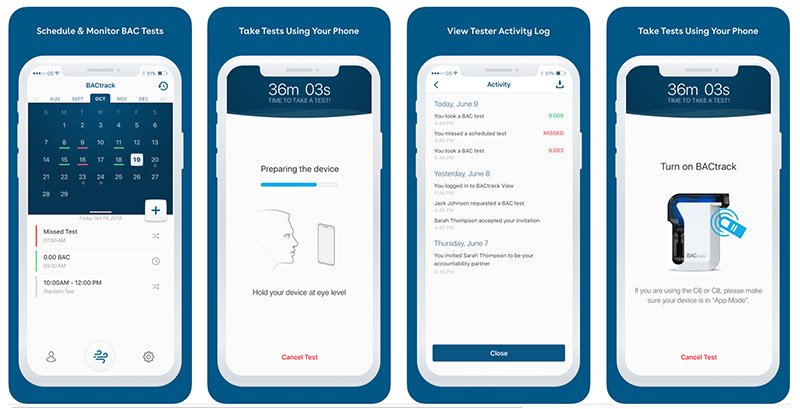 BACtrack View puts the power of accountability into one of the latest apps for recovery. One of the most difficult parts for anyone in recovery is rebuilding trust with family members and friends. BACtrack View is a great way to provide real-time relief to those concerned about their loved one staying sober.
The BACtrack View app pairs with the BACtrack Mobile smartphone breathalyzer to offer remote alcohol monitoring services. Rather than being required to show up in person for a sobriety test, you can use BACtrack View to prove your sobriety while on the go. Take a sobriety test at any time of the day and your app will log and share your results in real-time.
You can select scheduled, random, or on-demand testing depending on you and your loved ones' needs. There's no need for anyone to question the validity of your tests because BACtrack View requires photo verification with each test. Additionally, the app includes time, date, and location stamps for each test you take.
BACtrack View gives you the power to prove your sobriety over time and rebuild confidence both for your family and for yourself. Plenty of cases can benefit from the use of the app, such as:
Aftercare Programs for Addiction Treatment Facilities
Family Law and Child Custody Cases
Compliance Monitoring
Workplace Management
Teen Drivers
Feel confident in your sobriety with the help of the BACtrack View app for recovery. It's a helpful tool in your recovery toolkit, especially during these difficult times spent inside. Your family can rest assured knowing you're safe, and you can feel confident knowing you can back your sobriety.
Download BACtrack View 2 from the App Store:
Free (4.6 stars)
I Am Sober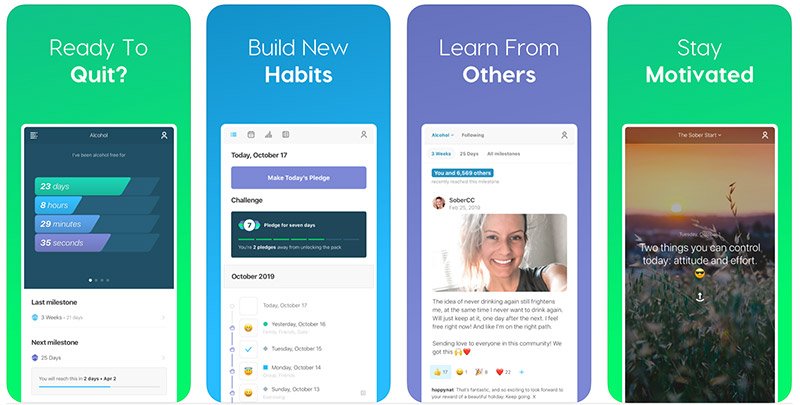 I Am Sober encourages you from the moment you open the app: "First of all, congrats!" reads the introduction screen. Select the substances you're getting sober from, set your sobriety date, and write out the specific reason you want to stay sober. Then the I Am Sober app places you in a community for your specific substance of choice.
It's more than a typical sobriety counter seen in other apps for recovery. It combines the functionality of a habit tracker with the focus of an app for recovery. You've got a beautiful visual of your clean and sober time on your home screen. You can also review your day, track your mood, and make some notes about what you want to remember about each day.
Then the app uses your nightly reviews to create associations between the way you spend your days and how difficult they are. I Am Sober can create more accurate associations the more often you write your nightly reviews.
You can read through your past entries to see how you felt and what you did as time passes. Use I Am Sober as a tool for personal accountability and a way to look back at and reflect on your recovery journey over time.
Find I Am Sober in both the Google Play Store and the App Store. It's a free-to-use app but there is a paid version that offers a few extra features, such as:
Place a private lock on your app
Customize the look of the app with various skins and colors
Sync the I Am Sober app to your smartwatch
Support the basic tracking app for others to continue using for free
Download I Am Sober from the Google Play Store:
Free (4.8 stars)
Download I Am Sober from the App Store:
Free (4.8 stars)
SoberTool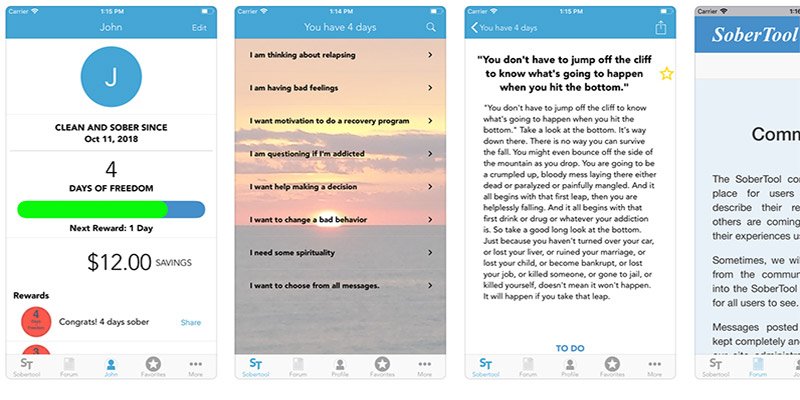 SoberTool is an app for anyone in recovery from any kind of addiction. Whether you struggle with alcohol, drugs, cigarettes, gambling, food, or something else, SoberTool can help. A Harvard graduate with 30 years sober teamed up with a group from Ohio State University to create the ground-breaking app for recovery.
SoberTool provides a clean and friendly interface from the first time you open it. Provide your name, clean and sober date, and the amount you spent on your addiction every day, then.
It offers a wide range of tools and features to support you on your recovery journey. These include:
Sobriety Counter: Total up your number of days clean and sober from your addiction, as well as the amount of money you've saved since quitting!
Sobriety Tokens: Collect digital sobriety tokens for various milestones in your recovery as you count up the days, weeks, months, and eventual years.
Daily Messages: Receive a daily message to encourage you to continue staying sober for another day.
Search Engine: Select a word that describes how you're feeling and find numerous suggestions for dealing with that feeling and staying sober in the process.
Craving Management: If you feel a craving coming on, open up SoberTool, and select an option from the main menu. Feeling like you want to relapse? There's a message for that. Lacking the motivation to keep going? SoberTool can help you there, too.
Forum: Connect with a community of other people in recovery who understand what you're going through. Create a thread if you're looking for help, or join in on one someone else created to offer support to another person.
This app for recovery uses ideas from numerous approaches to sobriety. Cognitive-behavioral therapy, 12-step recovery, mindfulness practices, stress-reduction techniques, and motivational enhancement therapy are all utilized.
Download SoberTool in both the App Store and the Google Play Store. There is both a free and a paid version of the app. The free version offers plenty of features on its own but it does include some distracting ads. Pay $3.99 to upgrade to the paid version to remove the ads and support the app's creators.
Download SoberTool from the Google Play Store:
Free (4.6 stars) | Paid (4.7 stars)
Download SoberTool from the App Store: